Gamma Knife's High-Tech Approach
Facing a diagnosis of brain disorder is frightening for anyone. As the most current technologically advanced minimally-invasive, incision-free treatment for brain disease, Leksell Gamma Knife treatment helps patients meet this challenge with confidence. 
Leksell Gamma Knife is the ONLY stereotactic radiosurgery system specifically approved for diminishing brain tumors based on long-term scientific proof—in many cases causing rapidly-growing tumors to disappear in one to two months, and slower-growing lesions to disappear in under two years. Treating more than one million people and counting, Gamma Knife results have been documented in more than 3,000 peer-reviewed clinical papers.
Not actually a knife at all, the Gamma Knife uses focused beams of radiation to destroy malignant and benign tumors, vascular malformations, and other benign conditions such as trigeminal neuralgia and Parkinson's disease. This state-of-the-art, software-guided procedure targets brain lesions by altering the DNA structure of cells, preventing them from reproducing and creating "surgical" changes deep within the brain—without opening the skull or exposing the patient to the potential risks of craniotomy or radiation therapy. Since the radiation source never moves, and the patient's head is stationary during treatment, Gamma Knife offers a superior level of accuracy.
Gamma Knife treatment is performed in a single, pain-free session, with no incisions or anesthesia required. Patients are awake and alert, and may communicate with the surgical team at any time. Most people return to their regular activities the following day with no extended hospital stays or rehabilitation.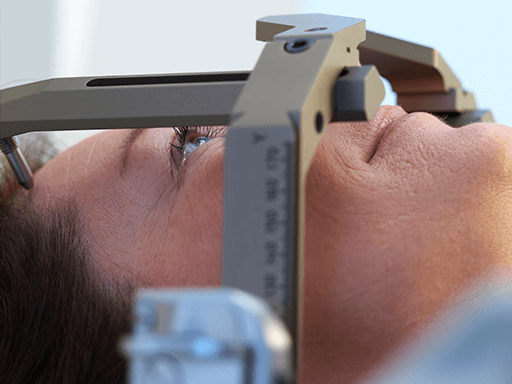 The Leksell Stereotactic Coordinate Frame is fixed to the patient's head by adjustable posts and fixation screws. This frame is a reference tool used in conjunction with an imaging procedure providing the basis for establishing target coordinates of the diseased area to be treated.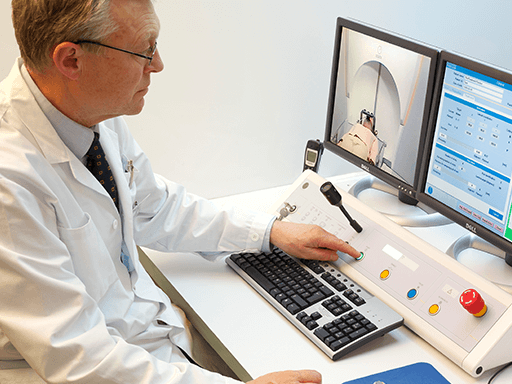 Next, an indicator box, compatible with the imaging modality employed, is attached. A series of images (MRI, CT, angiography) are taken and transferred to the treatment planning system. The target is localized and its x, y and z coordinates are determined.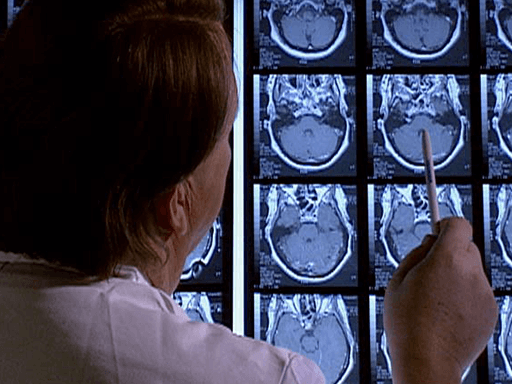 Step 3: Treatment Planning
While the patient rests, our Gamma Knife clinical team uses advanced software to determine the optimal treatment plan within one to two hours.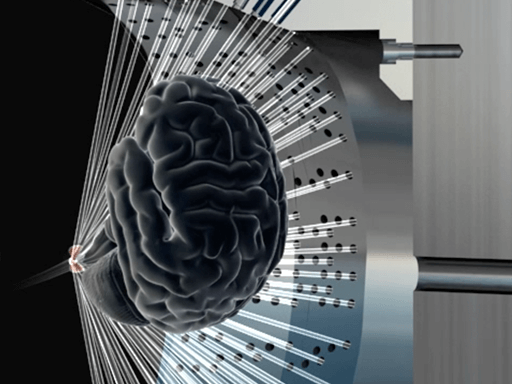 Step 4: Gamma Knife Treatment
The patient is placed on the Gamma Knife couch, then the hydraulic couch moves into position. Relatively harmless until they converge at the lesion, 192 beams of cobalt-60 radiation are precisely focused onto the brain lesion(s)—effectively destroying diseased cells without damaging healthy surrounding tissue. Finally, the couch moves out of the unit and the session is done.
The latest Gamma Knife model, the Leksell Gamma Knife® Perfexion,™ offers one-button automation for a shorter treatment session and the treatment of a wider range of anatomical structures. Perfexion also integrates robotic efficiency that eliminates the need for multiple helmets, and unrivaled radiation protection.
Technology-Driven Advantages
Better outcomes and lower cost are just two of the many benefits of Gamma Knife treatment.
Who Can It Help?
Gamma Knife can be used to treat a variety of brain tumors and other disorders safely and effectively.
Gamma Knife Answers
Get answers to all of your questions about Gamma Knife.
Book your personal consultation at Gamma Knife Center or make arrangements for treatment.